You are invited to join the Americans United for Life legal experts and special guest Gene Schaerr for an important strategic conference call on Tuesday, July 10th, at 11:00 a.m. Eastern as we go behind the scenes to discuss the Supreme Court nominee and his or her judicial philosophy, what comes next, and this once-in-a-lifetime opportunity to restore respect for the right to life on the U.S. Supreme Court.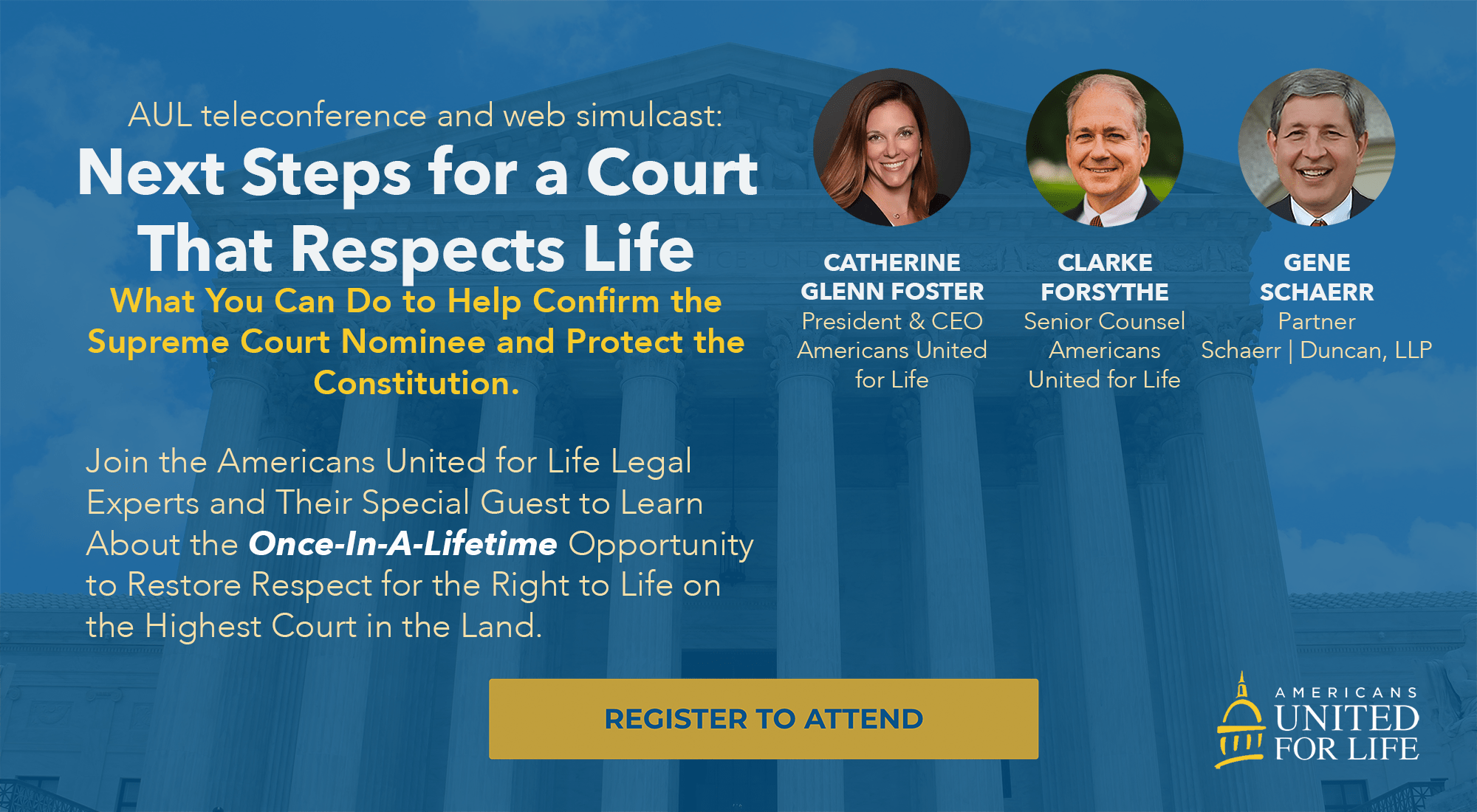 Tonight, just twelve days after Justice Anthony Kennedy announced his retirement from the Supreme Court, the President will nominate his replacement. As your Americans United for Life team has pored over the finalists' legal opinions and writings, we have seen that they all understand that their highest calling and duty is to the U.S. Constitution and our nation's founding documents, and that they understand as we do that the right to life, so strongly affirmed by Thomas Jefferson in the Declaration of Independence, is the most fundamental right of all.
We are not alone! According to the latest Gallup poll, a majority of Americans want to see Roe v. Wade overturned and the abortion issue returned to the States, as I explained last week on Fox News. Even Justice Ruth Bader Ginsburg has called Roe "the most extreme law in the country." She's right – in the 45 years since Roe struck down state laws nationwide and imposed abortion on demand on the whole country, more than sixty million American lives have been lost to abortion, and countless women harmed. And both the Left and the Right recognize that Roe is the quintessential example of judicial activism, disconnected from any constitutional foundation.
This is a critical moment for the Court, what may be a once-in-a-lifetime chance to shift the Court back to a majority that will be committed to the Constitution and refuse to use it as a means of social engineering. And the confirmation process is likely to be the political battle of the century.
Achieving confirmation of this Supreme Court Justice will require willpower, determination, and legal acumen – all qualities that your Americans United for Life team brings to the fight. We will keep you up to date every step of the way from the "war room" we have dedicated in our offices to see this nomination and confirmation process through, with daily updates on the nominee and the process as it unfolds.
Starting today, we can restore our nation's federalist foundation and pro-life principles. But we need your help! To find out what you can do, please join this conference call, where you'll hear:
Catherine Glenn Foster, President & CEO, Americans United for Life
Clarke Forsythe, Senior Counsel, Americans United for Life
Gene Schaerr, Partner, Schaerr Duncan, LLP
Please reserve your place in this historic conference call and ensure that your voice is heard in the confirmation process! With your support and partnership, we will together see the day when Roe is overturned.