Physician-Assisted Suicide Disregards The Dignity Of Human Life
Suicide assistance goes against the prevailing consensus that states have a duty to protect life. Suicide assistance—sometimes called Physician-Assisted Suicide (PAS) or Medical Aid in Dying (MAID)—places already vulnerable people groups at greater risk. Suicide assistance fails to protect the integrity and ethics of the medical profession.

There is a growing disregard for human dignity that has been eroding patients' rights over the past several decades. Advocates of "death with dignity" have taken their case to the states, passing laws in nine states and the District of Columbia over the protestations of disability rights and elder care groups. Over the last few years, more than half of the states have considered legislative or ballot measures to legalize physician-assisted suicide.
Which States Have Legalized Assisted Suicide?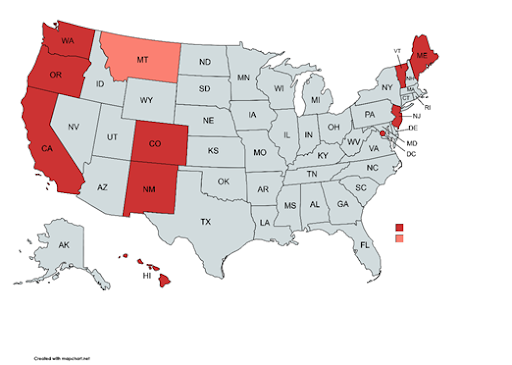 Physician-Assisted Suicide is legal* in eleven jurisdictions: California, Colorado, District of Columbia, Hawaii, Montana* Maine, New Jersey, New Mexico, Oregon, Vermont, and Washington.
*Legal under Court ruling
Suicide Laws In The United States
Americans United for Life and our pro-life allies believe these electoral, legislative, and legal setbacks by advocates of "death with dignity" erodes the very purpose and role of physicians in our society.
November 1994 – Oregon becomes the first state to legalize physician-assisted suicide through a referendum vote.
March 2009 – Following a ballot measure approving physician-assisted suicide, a Washington law authorizing the practice takes effect.
December 2009 – The Montana Supreme Court finds "nothing in Montana Supreme Court precedent or Montana statutes indicating that physician 'aid in dying' [i.e., physician-assisted suicide] is against public policy." The court concludes physicians (and perhaps non-physicians) may use the "consent" defense against a charge of homicide when assisting a suicide.
May 2013 – Vermont Governor signs a bill legalizing physician-assisted suicide.
June 2016 – A California law permitting physician-assisted suicide takes effect.
November 2016 – Colorado voters approve a ballot initiative legalizing assisted suicide.
June 2017 – Implementation of a physician-assisted suicide law begins in the District of Columbia. January 2019 – Hawaii enacts a physician-assisted suicide law.
August 2019 – A New Jersey law permitting physician-assisted suicide takes effect.
September 2019 – A Maine law permitting physician-assisted suicide takes effect.
June 2021 – A New Mexico law permitting physician-assisted suicide takes effect.
January 2022 – Amendments to California's physician-assisted suicide law take effect, severely reducing informed consent safeguards for patients
"…I will prescribe regimens for the good of my patients according to my ability and my judgment and never do harm to anyone. To please no one will I prescribe a deadly drug nor give advice which may cause his death…" —Hippocratic Oath
The Majority of U.S. States Affirmatively Prohibit Physician Assisted Death
Currently, 40 states affirmatively prohibit assisted suicide and impose criminal penalties on anyone who helps another person end his or her life. In Washington v. Glucksberg, the United States Supreme Court summed up the consensus, saying:
"In almost every State—indeed, in almost every western democracy—it is a crime to assist a suicide. The States' assisted suicide bans are not innovations. Rather they are longstanding expressions of the States' commitment to the protection and preservation of all human life."
This longstanding consensus among the vast majority of states is unsurprising when one considers, as the Court did, that "opposition to and condemnation of suicide—and, therefore, of assisting suicide—are consistent and enduring themes of our philosophical, legal and cultural heritages."
Supreme Court Says No Fundamental Right To Assisted Suicide
Indeed, more than twenty years ago, the Supreme Court held that there is no fundamental right to assisted suicide in the U.S. Constitution, finding instead that there exists for the states "an unqualified interest in the preservation of human life… in preventing suicide, and in studying, identifying, and treating its causes."
Additional AUL Resources